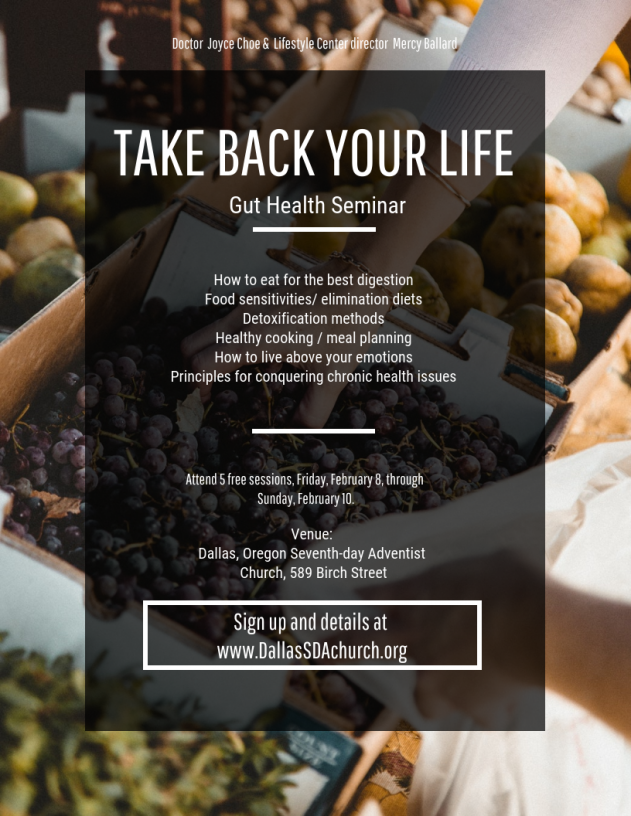 Friday, February 8, 7:00 pmOur Journey. Both Mercy and Dr. Joyce experienced debilitating health issues for a number of years. They share principles that guided them through their recovery process.
Saturday, February 9
10:50 am Living Above Your Emotions. The importance of emotional intelligence in the Christian life
12:30 pm Fellowship Lunch of fruit and salads
2:00pm Eating for optimal health. How the Daniel Diet has changed
Sunday, February 10, 10:00 am
Autoimmune disease, leaky gut, and what to do about it. AND 
Food demonstration—we teach you how to make organic tortillas that are gluten, corn, GMO and soy free. They are delicious!
Mercy Ballard, RN / Director of Years Restored Lifestyle and Learning Center. Mercy suffered many years with severe anemia, pain, and fatigue before learning about how food sensitivities and gut permeability contributed to her symptoms. In 2013, she and her husband began the Lifestyle and Learning Center, where she provides education in nutrition; lifestyle and natural remedies to help others with autoimmune, food sensitivities and other chronic diseases regain their health and purpose in life.
Dr. Joyce Choe, MD, MPH, is a board-certified ophthalmologist from Vancouver, WA. She is a plant-based health enthusiast with experience directing and teaching a wide variety of community-based health classes and programs. Her journey with leaky gut, food sensitivities, and autoimmune disease led to an in-depth search for answers. It also fueled her desire to help others suffering through similar experiences to find answers. Joyce and Mercy have been partnering since 2017. Their aim is to provide education and practical solutions to help leaky gut and autoimmune disease sufferers.  
Sign up Here!